Halloween is almost here, time to find the most spooky horror games to play. We have already listed our top picks for Halloween games to give you an idea of how to set the mood this season!

Black Stories is a series of games where the most bizarre events take place. It's up to you and the other players to find out what exactly happened to end up in this situation. You can let your fantasy run wild because the stories in this game are sometimes a little bit farfetched, but always great fun! In this series, there are also some horror and morbid versions that are perfect for a spooky Halloween night. For example there are Black Stories: Morts de rire and Black Stories: Uni Edition. All games in this series can be found on the Black Stories game page.

In Obscurio, all players are locked up in a spooky library by an evil sorcerer. You will have to collect magical books and artifacts to find the way out of this ever-changing place in order to escape. But that's not all... There might be a traitor among you who is working with the evil sorcerer to make sure you stay in the library forever. Will you succeed in escaping the evil sorcerer? Or will you be locked in the library of Obscurio forever?
A mysterious murder took place in Crafton Mansion and you and your friends want to find what exactly happened at this place. In this game, you will investigate one of the most spooky mansions to find clues and solve the murder of your parents. You will come across secret passages, crazy conspiracies, and all sorts of weird things. Do you dare to enter the Ghost Castle? But hurry up, because if you stay too long, you might become one of the victims of the evil that lives here!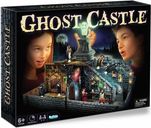 For the youngest of players, there is the newest version of Le Manoir Hanté in which players will go and investigate a haunted mansion. However, the players get locked in by the ghosts and need to try and escape. You will have to visit several rooms in this mansion to find out how to get out. But beware of traps and hexes along the way, these might try to hinder you. The first player to escape this building is the winner of the game.
Publié le 09 Oct 2021 par Jerodev