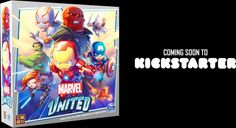 Cool Mini Or Not, or CMON in short, is a publisher that is most known for its great strategic games with lots of miniatures such as Zombicide and Arcadia Quest. Through Twitter, the publisher has just announced its latest miniatures game: Marvel United, based on the heroes and villains from the Marvel universe and containing lovely miniatures.
Until now, nothing much is yet known about the game apart from a tweet that has been sent out to the world by CMON on January third containing a teaser video. In the video, you can see that the game will be made with a sort of cartoony style and miniatures resembling these of Arcadia Quest or Masmorra
Together with Spin Masters, CMON will be launching a Kickstarter campaign for the game later this year.
Publié le 08 Jan 2020 par Jerodev | source